Double Terminated Crystal Pendants
Crystals come in all shapes and sizes, Some have natural facets and points, Some occur naturally, others are artificially cut to precise shape. Each shape has its own attributes and application. Knowing how to use these different shapes opens the way to magical possibilities.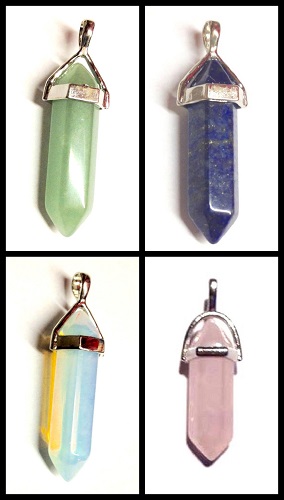 Double Termination

Double terminated crystals have definite points at both ends. Some are natural and others artificially shaped.
A double termination radiates or absorbs energy at both ends simultanously, channeling it in two directions at once, A stone of balance, a double termination integrates spirit and matter and can provide a bridge between two energy points. These crystals are useful in healing as they absorb negative and break old patterns, which can assist in overcoming addictions.They can also be used to integrate previously blocked parts of the self. Placed on the third eye, double terminations can enhance telepathy.